i'm linking up at
finding joy
.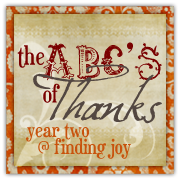 a
ll of my life/blessings/Christmas music/
drawing/everything that God has given me/
family/God/home/inspirational things/Jesus/
kind people/love/movies/no school!/old journals/
posting on blogger/quiet/reading/soft blankets/
thanksgiving day/umbrellas/vacations/winter/
x-rays/yellow charlie brown shirts/
zambonis (for ice skating!)
happy Thanksgiving everyone! hope you all have a great day, doing what ya'll do on Thanksgiving! :)
happy blogging!
-francesca-
p.s. i won my first giveaway today! :D
p.p.s my birthday is SO soon! i can't wait!
p.p.p.s new design to come reallysoon! (can you tell how soon!?) :)